Chocolate and coconut cake
Here is a simple and easy chocolate cake for you to make for a healthy and yummy weekend treat!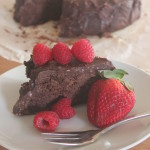 Banana flour is a great gluten and grain free substitute for flour. It is becoming more easily available in health food shops and aisles. It does have quite a savoury flavour, and it is quite absorbent, so recipes need to be adjusted accordingly. It does not taste of bananas, as it is obtained from the banana before the sugar develops and sweetens. I highly recommend you try it out!
Chocolate cake
1½ cups banana flour
1 teaspoon bi-carbonate soda
4 tablespoons cacao
1 tablespoon ground cinnamon
3 tablespoons desiccated coconut
¾ cup maple syrup
1 cup coconut milk
1 teaspoon vanilla extract
125g sunflower butter (or preferred dairy free butter)
1 tablespoon chia seeds, soaked in 2 tablespoons water
1 banana
Method:
Preheat oven to 180 degrees C.
Combine all ingredients in a food processor.
Pour into a lined bake tin.
Bake for 35-40 minutes, until inserted skewer comes out clean.
Icing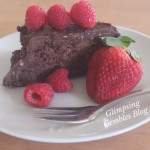 2-4 tablespoons maple syrup
1/4 cup cacao
1/4 cup coconut oil
1 teaspoon vanilla extract
50g 70-85% dark chocolate (optional)
3-4 tablespoons desiccated coconut
Pinch of salt
Combine all the ingredients in a small bowl sitting on a small saucepan with boiling water (do not let bowl touch the water) over a gentle heat.
Stir well until melted and combined.
When the cake is cool, coat with the icing.
Store in an airtight container in the fridge.
The banana and chia seeds are egg substitutes, so if you do not want to use one, do what you prefer and can tolerate – 2 chia seed "eggs", or 2 bananas, or 2 actual eggs, 2 flaxseed "eggs", or 2 gelatine "eggs" etc.